The Fresher training program started in 2018 with a focus on learning spirit – a principle that is upheld at NALS since day one. This December, NALS will be welcoming new members for our Fresher program, Batch 3 – with the message "Shooting for the stars!" – Encourage our freshers to dream and work to the fullest, to break your own boundaries!
Especially, all the steps of assessing, interviewing & informing results will all be wrapped in ONE DAY ONLY!
📌 What is One-day hiring program? 
One-day hiring is a condensed hiring process where candidates complete all interviewing and testing processes. The final result will be delivered in just 1 day. This is a way to speed up the hiring process and give a chance for young people to enter the professional world.
📌How about the training roadmap?
There are 2 training phases:
👉🏻Phase 1: In-depth training
👉🏻Phase 2: Join real projects
The training roadmap is built based on the Agile-Scrum model, 4 months of training will be a valuable opportunity for young people to build a solid foundation for future careers, gain experience through real-life projects, and a chance for Fresher to participate in the other company's activities such as seasonal festival, football, music club,…
👩‍🚀Essential information about this trip to the space👩‍🚀
💙Positions: FE – (ReactJS / VueJS), BE – (PHP/ NodeJS/ Java), Manual Tester 
💙Training duration: 4 months (2 months of Professional training + 2 On-the-Job Training)
💙Location: Đà Nẵng
💙Format: Offline 
💙Assessment dates: 10/12 and 24/12/2022
💙On-boarding date: 02/01/2023
💙This is a full-time training program, and participants will have to work at NALS after training.
📌The profiles of some Mentors!
It is impossible not to mention the great contributions of the Mentors to achieve success in learning and training. When joining NALSA crew, Fresher will have a chance to learn from the best – Mentors and Trainers who are the leading IT experts at NALS!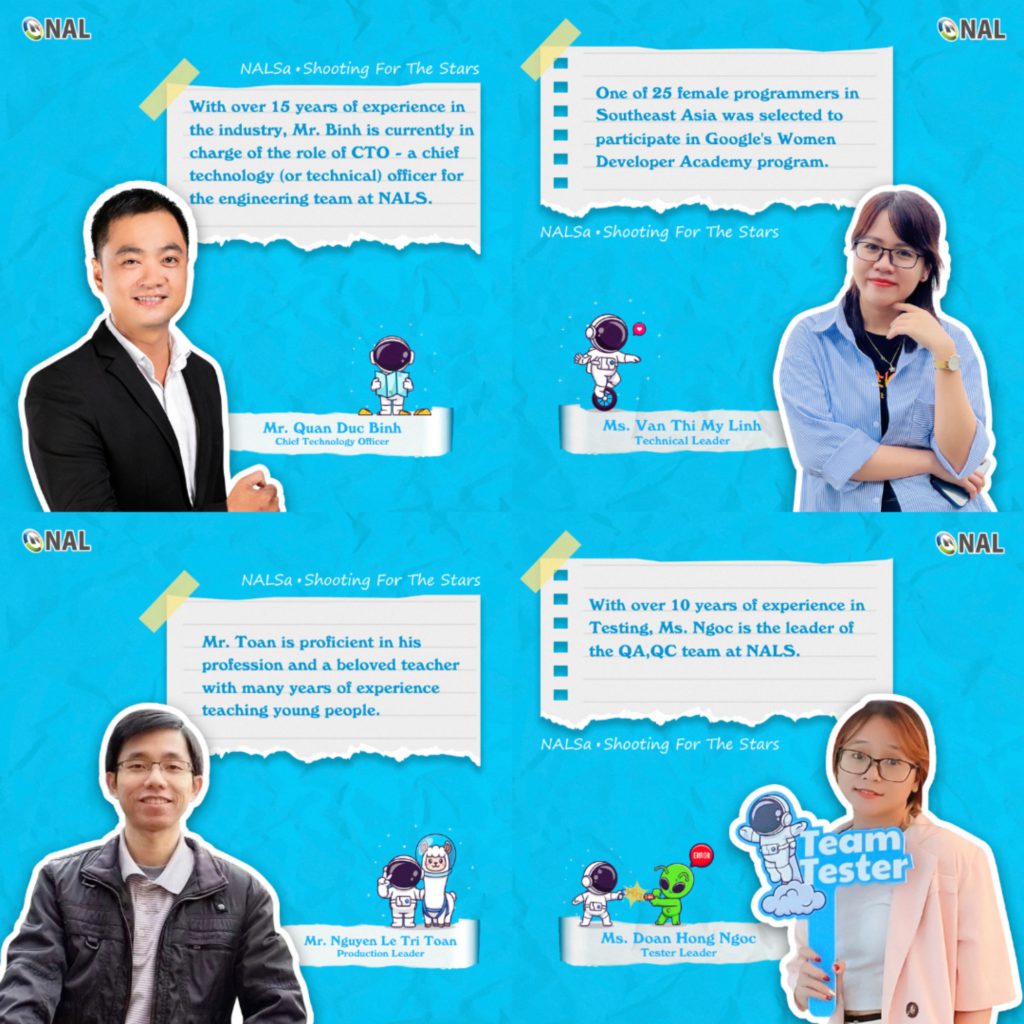 At NALS, we take learning as one of the critical factors for each member to develop, as well as more opportunities for career advancement. Therefore, training and human development are always paid special attention by the Board of Directors. NALS believes that not only Fresher or Junior learn from the seniors, but seniors can learn from the unique qualities of young people.
Here are some words shared by freshers from previous one-day hiring programs:
Over 6 seasons of Fresher training, NALS has created 100+ excellent IT engineers, who are qualified for international projects. We are looking for people who want to be themselves, to work in a dynamic, hybrid working environment that isn't bound by the framework. We want you to be able to learn and grow—and we believe that learning never ends at NALS. There is a famous saying: "𝙏𝙝𝙚 𝙧𝙞𝙜𝙝𝙩 𝙢𝙚𝙣𝙩𝙤𝙧 𝙘𝙤𝙢𝙞𝙣𝙜 𝙩𝙤 𝙮𝙤𝙪 𝙖𝙩 𝙩𝙝𝙚 𝙧𝙞𝙜𝙝𝙩 𝙩𝙞𝙢𝙚 𝙬𝙞𝙡𝙡 𝙘𝙝𝙖𝙣𝙜𝙚 𝙚𝙫𝙚𝙧𝙮𝙩𝙝𝙞𝙣𝙜 𝙮𝙤𝙪 𝙚𝙫𝙚𝙧 𝙩𝙝𝙤𝙪𝙜𝙝𝙩 𝙬𝙖𝙨 𝙩𝙧𝙪𝙚". NALS hopes the promising freshers will have a valuable and memorable training time.