E-learning is a term that gained more and more popularity in recent years thanks to two main factors: the development of the Internet and the COVID-19 pandemic, E-learning has gradually become an indispensable part of the vast majority of Vietnamese people.
The concept of E-learning
E-learning is still a relatively new concept in Vietnam, while it is already a familiar concept globally. The world's first accredited online school – CompuHigh – first appeared in the US in 1994, with the mission of teaching students in the US and other English-speaking countries from grades 9 to 12. By 1999, the term E-Learning was first used by Elliot Masie at the TechLearn conference at DisneyWorld.
Since then, E-Learning has been going through many leaps and bounds in its development. According to The Economist, the number of people participating in E-Learning in the world has increased rapidly from about 36 million in 2015 to 60 million in 2016, reaching nearly 70 million in 2017. In 2017, the education market The global online market grew significantly, projected to hit more than 100 billion USD (research results of the market survey company Global Industry Analysts).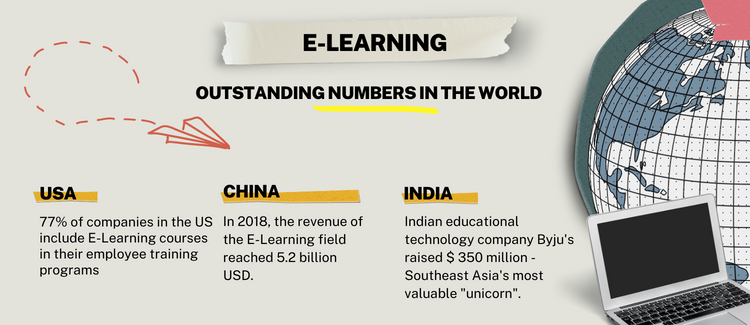 E-learning is still a new concept in Vietnam
Catching up with the global trend, Vietnamese pioneering businesses in E-learning have begun to appear, for example, Hocmai.vn. In April 2007, the online learning platform Hocmai.vn began to post lecture videos of famous university lecturers along with exam questions to help students practice, test and self-assess. In order to get video lectures, the founding team persuaded teachers to record videos or place cameras at exam preparation centers, in 1 year the website reached 300,000 accounts registered. After more than 10 years of operation, the website hocmai.vn has attracted up to 3.5 million members with over 10,000 site visits.
After hocmai.vn, a series of online learning websites such as Violet.vn, Topica, Onluyen.vn, Speakup.vn, Mathplay… respectively appeared, plays an important role in changing the perception of Vietnamese users about online learning.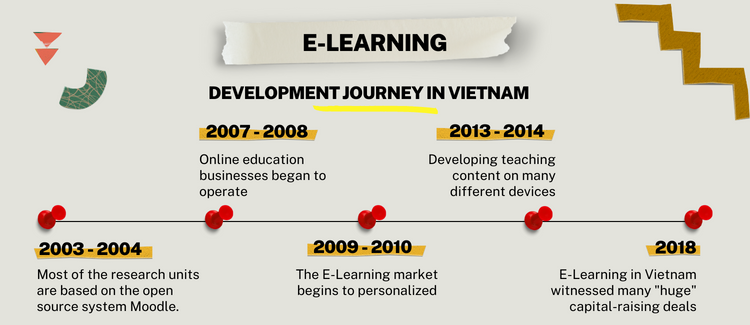 Not only businesses, but educational agencies in Vietnam also focus on developing E-Learning by opening contests like "Designing online lecture for E-Learning" in the 2009-2010 or the math solving contests – violympic.vn; The English Olympiad competition on the website Go – ioe.go.vn had attracted great attention from teachers and students across the country.
Advantages of developing E-learning in Vietnam
Just like other industries related to technology, the common denominator and also the biggest advantage of the Vietnamese market is the huge number of Internet users: more than 60% of the population uses the Internet, and users are mainly young people with high learning needs. Moreover, spending on education accounts for 5.8% of GDP and 20% of total budget expenditure (data from the Ministry of Education and Training). With such a large market, not only domestic enterprises but also foreign enterprises consider the online learning industry as a potential market segment.
Vietnamese businesses also show their development potential when they are constantly getting investments from large funds and incubators in the world. CoderSchool – an online teaching startup that offers courses on web development, machine learning, and data in Ho Chi Minh City – has just received $2.6 million (Pre-Series A round) from Monk's Hill Ventures. Educa Group – the "big man" in the field of English education – also received a $2 million investment in a Series A funding round from Singapore-based Redefine Capital Fund.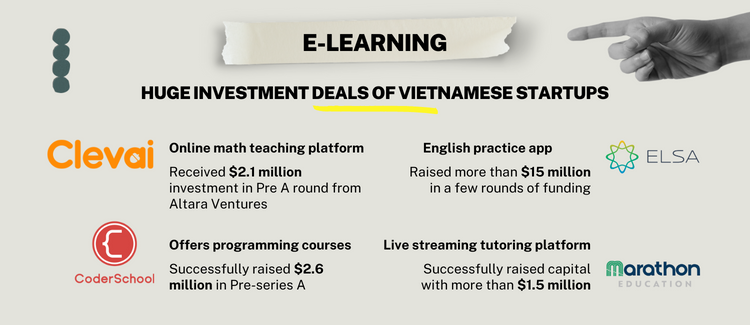 In addition, in the past, Vietnamese users' opinion toward online education was somewhat cautious, largely due to the lack of direct interaction between teachers and students. After the COVID-19 pandemic, when online education became the main way of learning, the online learning model also received huge support from parents. Online learning overcomes the limitations of traditional extra-curricular classes, where students are crammed into a class of hundreds of students at the same time.
The limitations of E-learning
Vietnam currently has more than 100 startups operating in EdTech. Although developing strongly in quantity, in terms of quality, the industry still has many limitations that are not commensurate with its potential. While the needs of the market are getting more and more diverse, most courses only revolve around English test preparation, university exam preparation, or tutoring. In the future, Edtech businesses should avoid going into the existing rut, while need to identify and solving the problem of the users.
The system and resources for Edtech in Vietnam in general are still not high compared to the common level in the world. The level of updating lectures and information on some websites is still quite slow, from 2-3 days/post, sometimes students have to wait for 1 week, or 1 month for a post. Due to the pandemic, there is a high demand for online learning, this is also another problem that online education businesses need to focus on.
In addition, another fact that cannot be denied is the difference in facilities for online teaching between regions in Vietnam, even between families in the same city. Although this is an objective reason, it invisibly slows down the development speed of EdTech in Vietnam.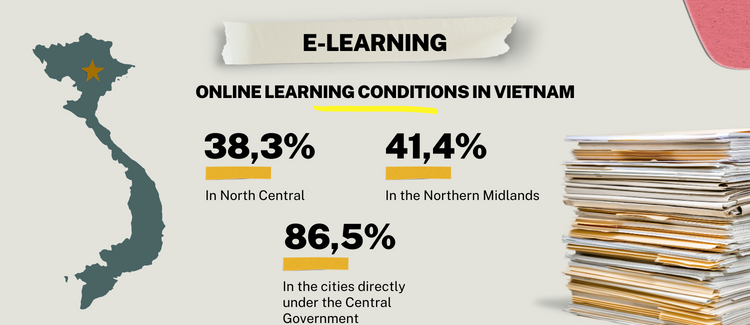 Although there are still many open issues, but one thing is for sure: Online education is no longer a trend, but also an essential need of reality, serving the needs of the majority of people. E-Learning businesses cannot always blame the socio-economic conditions, but need to focus on developing commensurate with their existing market, before becoming a potential market for foreign investment. Contact NAL Solutions for more information about E-learning.
Credit: Techie