Service overview
Registration in Vietnam, recruitment and training, process introduction, project / organization management.
It is a service that builds a development company that can perform all functions for system development.
Service flow
Value to be provided / Issues to be solved
Select and train key management members together with NAL while backing up NAL's resources.
With zero lead time, development can be started at the same time as the registration procedure.
Members and organizations continue to grow independently in an organization with a learning culture.
An independent self-management organization reduces organizational management challenges and solves them in a structured process.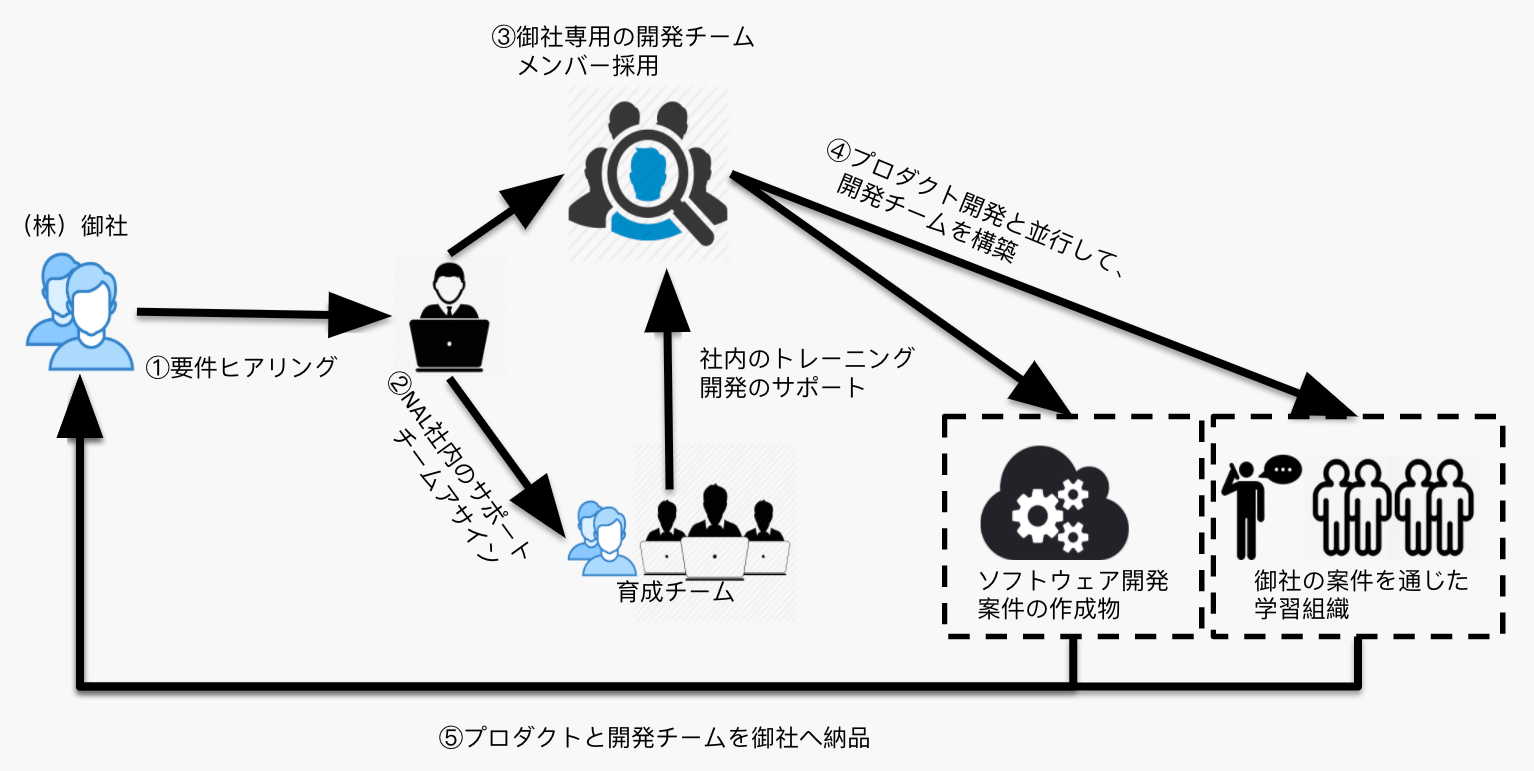 Vietnam development company establishment and operation agency
Real case study
Client characteristics
We are developing several IT services.
One of which is provided for the Southeast Asian market.
Goal
We will understand the concept of services well and make better services by making use of ideas from developers.
Current scale
Currently 5 people are enrolled in the client corporation, and 4 other people are transferred to NAL when they can make a proper decision by placing an order in the lab. Increase to 15 by the end of this year.
Rating
comments

Work progresses even with some specifications. You can learn and respond to new technologies and frameworks.
I think it is attractive to be able to respond flexibly in various aspects (securing human resources, technology to be used, schedule, etc.).
Client characteristics
We provide development services to multiple clients by focusing on one specific technology.
Goal
Make a group of engineers who are deeply sophisticated in one technology into an organization of 100 people in one year
Current scale
25 people
Rating
comments
Without NAL's support, I wouldn't be in this phase at this timing, and I think it's a day when I still have to investigate various things.
Client characteristics
IT service company is actively launching new businesses.
Goal
The Japanese side wants to focus on business planning and make the entire development a subsidiary in Vietnam.
Current scale
120 people in 2 years
Rating
comments

It is becoming possible to operate smoothly without sending the person in charge of the head office to Vietnam.
Development is going well, and the number of employees will increase to 200 in the third year.
Story of company D (NAL service adaptation planning)
Client characteristics
Customized development for IT service companies, in-house service-centric, and some service users
Goal

Aim for good results and secure development capabilities for expansion.
Details Considering the development of in-house services, we hire mainly excellent members,
Training in Japan for about 2 years.

Current scale
Operated for about 2 years, about 20 people
Rating
comments

Hiring High cost but excellent recruitment of new graduates
Individual performance is OK during training in Japan
The Vietnamese team is not good at performance,
"Each person in charge on the Japanese side says he doesn't want to hand over the project," said a Vietnamese business person in charge.